A luxury stay, discover The Adelante House
Feel the soul of the Mediterranean vibe, make time for discovery, soak up the sun, take a moment to gather your thoughts, and leave inspired and refreshed.
Discover the house
Eight elegant and unique bedrooms at your disposal
The Adelante House offers 8 rooms, each with its own bathroom, as well as cozy shared spaces and a fully functional kitchen. Outside, you'll find lush gardens with a modern and spacious pool, along with various chill-out areas for a space that's all yours.
What we offer
Discover everything we can offer you during your stay at Adelante House
The Adelante House is a vacation rental property for families and groups, for companies looking to organize team-building events, for brands wanting to conduct photoshoots for their products, with personalized concierge service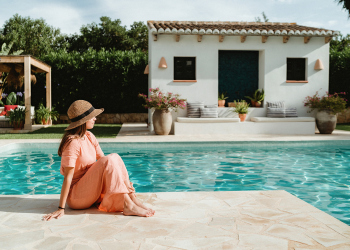 Locations
Set the Trend with Our Location for Your Next Photo Session
Whether it's for a campaign or a change of scenery, our villa is at your…
Retreats
A Fresh Way to Foster Your Business Culture
Escape the pressures and stress of city life to an idyllic and relaxing place. Set…
Concierge
Take Time, Make Time
At The Adelante House, we provide a wide range of tailored services to ensure our…